L
et's face it, being a teenager in our modern fast paced world is not always easy.  Teens who have braces or Invisalign Teen really want the same things that we want in our orthodontic practice.  Teens want treatment to be comfortable, as short as possible, to have healthy teeth and a fantastic smile.   We work hard to provide those things for our patients and we go out of our way to create an atmosphere of team work and to be positive mentors.  We know that orthodontic treatment is just one small piece of a very busy teen life.  As an orthodontist, Dr. McNutt believes that orthodontic treatment is "something we do for you, and not to you."  In other words, it is important for a teen to feel invested in orthodontic treatment and to play an active role.
People of all different ages undergo orthodontic treatment, however, the teen years continues to be the most common time for braces or Invisalign.  For many patients, the early teen years are ideal because typically all the baby teeth (primary teeth) are gone and most of the adult permanent teeth have come in.  This time period also coincides with the adolescent growth spurt.  Orthodontists have a greater ability to move teeth efficiently during this growth spurt and teeth can be placed in their final positions at this age.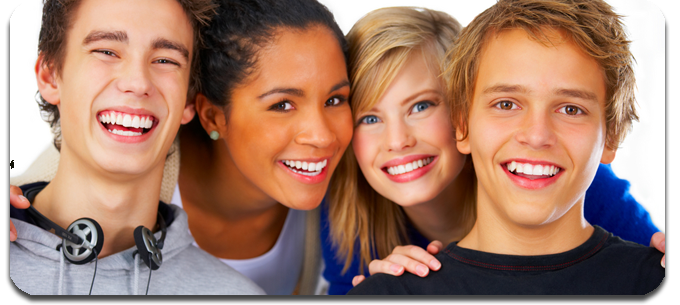 A beautiful smile can change the way you see yourself and change the way the world sees you.  Contemporary orthodontics offers many different options for teen treatment, such as Invisalign Teen, customized Damon Braces through the Insignia System. We understand that great treatment outcomes involve a collaborative effort between the patient, the orthodontist and the family dentist.  As his patients will attest, Dr. McNutt carefully customizes each teen treatment plan to maximize the outcome.  We always begin with the end in mind, and great plan from the beginning allows us to focus our energy on having fun with our teen patients.