Dr. McNutt Awarded The Highest Clinical Outcome
Score In North America For Invisalign Teen
Every two years Invisalign selects four top doctors in all of North America for clinical excellence and invites them to present to an audience of over 3,600 orthodontists and staff from around the world.  In 2016 Dr. McNutt was awarded this honor and earned the highest scores for Invisalign Teen in all of North America.  In order to be considered for this award an orthodontist must submit their clinical work for evaluation, and it is peer reviewed blindly by orthodontists based on measures of case difficulty, treatment planning & execution, diagnostic records and treatment results.  Dr. McNutt chose to submit to this evaluation to see how his outcomes stack up against the best of the best.  Dr. McNutt was truly honored and humbled to speak to such a large audience of his colleagues from around the world.
To watch a video of his presentation click here.
Here are Dr. McNutt's thoughts on this award:

I am proud of my team for working so hard for our patients and I was humbled by this honor. I was thankful for my wife being there to support me and for the UNC alumni who supported me. To be recognized in this way is a testament to the the fact that we have something special going on at McNutt Orthodontics.

 Dr. Matthew McNutt is a Certified Invisalign Orthodontist For Teens.
Dr. McNutt often repeats this phrase to his staff. "We are only as good as the work we are doing right now." Establishing clinical excellence is one thing, maintaining it is another. In order to stay current, an orthodontist must be dedicated to life long learning. Operating a premiere Invisalign Treatment Center requires careful study of the Invisalign system. Click here for Dr. McNutt's Invisalign Continuing Education Record.
If you have ever been told that Invisalign won't work for you, think again.
I
nvisalign®
is high tech alternative to braces and is a great treatment option for many teens, especially those with active and athletic lifestyles.  With school, sports, pictures and even prom, braces may not be the ideal first choice for some patients.
Why is Invisalign an attractive option for many patients?
Invisalign Teen® aligners are comfortable, convenient and virtually invisible.  No one may even notice that you're wearing them, making Invisalign a seamless fit with your lifestyle. Unlike braces, Invisalign aligners are removable.  That means you have the flexibility to remove your aligners to eat and drink what you want during treatment. There are no metal brackets or wires that could cause irritation to your mouth.  Appointments with Dr. McNutt are generally shorter and repairs are less common.
Another attractive reason to consider Invisalign is that patients are able to brush and floss as normal.  One of the biggest challenges of having braces is removing all the food that gets trapped in the brackets and wires.  For teens who may have difficulty maintaining  good oral hygiene with braces, which is considerably more difficult, Invisalign Teen may be the preferred treatment option.
Do you have to make goopy impressions or molds of my teeth?
The answer is no! Goopy Molds of Your Teeth Are Out! Our New 3-D Tooth Scanner is In! We can scan your teeth comfortably in minutes instead. With the iTero scanner for Invisalign we can quickly create a 3-D model of your teeth before, during and after treatment! To learn more about how this technology is improving the fit of Invisalign aligners and making patients happy, click here.
What are Aligners made of and how do they straighten teeth?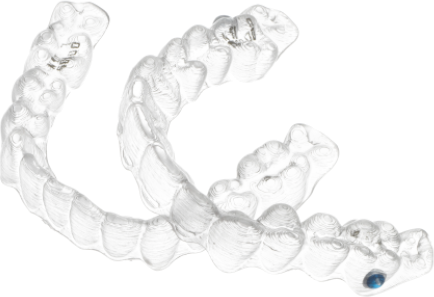 The virtually invisible aligners, which are made of a thermoplastic material uniquely developed Align Technologies, look similar to teeth-whitening trays.  Each aligner will make slight adjustments to tooth position, a process that is mapped out in advance by Dr. McNutt on your 3-D virtual treatment plan.  When the aligners are placed on the teeth, they cause the teeth to gradually shift from their current position.  The technology is so precise that Dr. McNutt not only controls the force, but also the timing of the force application. During each stage, only certain teeth are allowed to move.  Which each successive set of aligners, you get closer and closer to the smile you have always wanted.
Who is a good candidate for Invisalign and is it as effective as braces?

At the new patient consultation, Dr. McNutt carefully evaluates each patient and will advise  which treatment options are best.  Not every patient is a good fit for Invisalign and sometimes braces will have a definite clinical advantage.  However, there are certain clinical situations where Dr. McNutt clearly prefers Invisalign over braces.  Depending on a patient's individual situation,  there are three possible answers to the question, "Invisalign, is it as effective as braces?"
1) Equally as effective, in which case Dr. McNutt will leave
it up to the patient to decide.
2) Braces have a definite clinical advantage, in which case
Dr. McNutt may let the patient know that Invisalign is not an option.
3) Invisalign has a definite clinical advantage, in which case
Dr. McNutt will advise the patient he prefers Invisalign.
How many hours per day should aligners be worn?
In order to be effective, aligners are generally worn 18-22 hours per day. Sometimes parents will state a preference for braces over Invisalign, believing that braces will be an easier responsibility in a busy teen life. Experience has taught us that braces are actually a greater responsibility and much more difficult to maintain.
How can I be sure my teen is wearing the aligners as instructed?
One of the built in technological features of Invisalign Teen (not found in Adult Invisalign aligners) is the Blue Dot Wear Indicator.  These wear indicators provide an approximate gauge of whether your teen has been wearing the aligners consistently and for the recommended amount of time. The indicators will fade with proper wear as the time to move to the next set of aligners gets closer. Dr. McNutt checks this at each appointment.
What happens if my teen loses an aligner?
A FAQ by parents is, "What happens if my teenager loses an aligner?"  Will there be a problem moving the teeth and what is the cost to replace a missing aligner?  The answer is…there is no need to worry if something happens to one of the aligners.  Whether they are accidentally thrown out, broken, eaten by the dog, or lost, each Invisalign Teen patient is eligible for up to six free replacement aligners.
Contact us today to schedule a complimentary Invisalign Teen consultation.
Testimonial from one of our Teen Invisalign patients

 When I first heard that I needed "braces", the idea of Invisalign immediately appealed to me. Being a soccer player, I knew that I needed something that would be safe in a game environment, while still working to align my teeth. During my invisilign experience with Dr. McNutt, I never had to worry about braces that could cut my mouth, or wearing a mouth guard that would inhibit communication on the field. Also, when changing from one set to another, I experienced little to no pain, only a little tightness on the first day with a new set. Best of all, during my whole Invisalign experience, hardly anyone noticed that I was wearing anything at all. I am very satisfied with my results and would recommend Invisalign with Dr. McNutt for any teen who wants an alternative to braces without the appearance of having them, or for any athlete who needs braces.

Brae Ann
Teen Invisalign Patient