Braces Are The Beginning   ●   Dr. McNutt Makes the Smile

Dr. McNutt is a Certified Damon System doctor and has been taking advantage of this technology since 2004.   Damon Braces are often a great choice for adults and teens, and Dr. McNutt uses these braces for most of his patients.
So let's define the idea of "braces" first to get an idea of how Damon braces differ from traditional "twin" brackets.  First,  a "bracket" is bonded or adhered to each tooth with dental tooth colored composite (similar to tooth colored filling material, so it is very strong).  Second, an "arch wire" is placed into a slot in all the brackets, thereby joining each bracketed tooth together as a team.  Together, brackets and arch wires apply force to the teeth to straighten them.
The arch wire will not stay in place in the brackets without something holding it in place (orthodontists use the term 'ligate' to describe holding the wire in place).  How the arch wire is held into the brackets makes all the difference.  Traditional metal twin brackets require a rubber elastomeric o-ring/tie to hold the wire in place.  Damon braces require no additional o-ring/tie to hold the wire in place.  Damon braces are self sufficient and have a built in sliding door mechanism.  This sliding door mechanism gently opens to allow the arch wire to be put in place.  The sliding door is then closed to hold or 'ligate' the arch wire in place.

There are a number of advantages
to using this system, our favorites being:
Improved Oral Hygiene: Plaque and bacterial colonies adhere easily to o-rings to create a biofilm. Eliminating the need for o-rings greatly reduces the amount of plaque and food trapped in and around the braces.  Any parent who has had a teen in braces can attest to the fact that motivating teens to floss and brush well every day in braces can be a challenge.
Greater Comfort For Lips, Cheeks and Tongue: Damon braces are smaller than traditional metal twin braces and have carefully contoured edges that are smoothly rounded.  Without a doubt, this is more comfortable for the mouth.
Adjustment Appointments Are More Comfortable:  Opening the sliding doors on the Damon braces is a breeze and much more comfortable for the patient in the chair.  No pressure is applied to the teeth in order to open the doors to adjust the arch wires, whereas with traditional metal twin brackets, removal of the o-rings requires putting pressure on the teeth.
Adjustment Appointments Are More Efficient: Arch wires and adjustments to the braces can be completed more quickly, so we can typically get more done and the patient spends less time in the dental chair.
Greater Comfort After the Appointment:  Let's face it, no one likes to feel discomfort, which is a part of orthodontic treatment from time to time.  As an orthodontist, Dr. McNutt is frequently asked, "Is this going to hurt?"  We aim to minimize discomfort as much as possible.  Our experience has taught us that with Damon braces patients experience less discomfort after their appointments.  One of the reasons for this is that in the absence of an o-ring tie, we can use a gentler wire to move the teeth.  The o-ring ties hold the wires in such a way that teeth don't always move as efficiently and in fact can hold the wire more tightly, thereby having a greater inhibitory effect on tooth movement.  For patients, this typically means less discomfort after we change or adjust and arch wire in the braces.
The bottom line is Damon braces are designed
to be discreet, comfortable and easy to keep clean.
 One of Dr. McNutt's Damon System Patients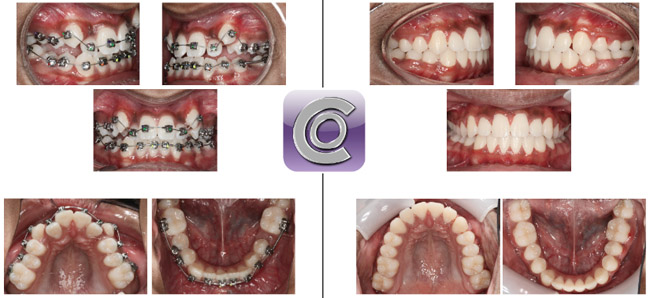 Damon System Articles Available For Download: