Our Commitment to our Community
We are committed to serving families in the greater Johnston County & Wake County area.  We enjoy community events and supporting an array of worthwhile endeavors.   Read our braces blog or join us on facebook to interact with our team, ask questions and to stay updated with our latest community involvement.
Cary Christian School Corporate Sponsor
Dr. McNutt is an annual Cary Christian School supporter.  To learn more about the K-12 curriculum at CCS or to learn more about how to support CCS visit the Cary Christian School Website. Dr. McNutt was a sponsor of the 2013 CCS Stop Hunger Now Project. The event was held April 19, 2013. The CCS students turned their gymnasium into a packaging center and more than 100,000 meals were prepared for shipment to impoverished peoples.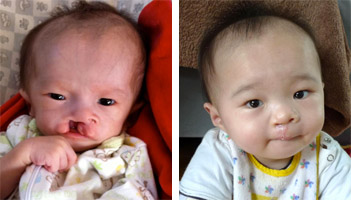 The 2013 Walk For Hope and Healing will be held on Sunday April 7, at 2 O'Clock PM in Cary NC at the Koka Booth Amphitheatre. In 2010 the McNutt Family and the Brannon Family partnered together to host the first annual Walk For Hope and Healing of Orphaned Children.  This event raises funds for physicians from the U.S. to travel to China in order to provide life changing, and in some cases life saving, surgeries for orphaned children. Thousands of children are abandoned due to a cultural belief that children born with medical conditions are unlucky and can bring shame to a family. These children often end up in the orphanage system. In a crowded orphanage environment, even if surgery can be arranged, the high level of pre- and post-operative care these children need is not likely to be available. In 2010 the inaugural 5K Walk For Hope and Healing of Orphaned Children raised enough to fund cleft lip and palate repair for fifteen orphan children.  Without surgical repair, these children are deemed defective and not eligible for adoption.
Powhatan Elementary School in Clayton NC
Go Lions! The Clayton Orthodontics team has enjoyed supporting the Powhatan PTA on an annual basis since 2009.  Each year the PTA works hard to host creative ways to raise support for the students.  Whether it is a 5K run or a read-a-thon, Dr. McNutt looks forward strapping on his running shoes or cracking a book to read to 5th graders, and of course, giving to support education.  To learn more about the Powhatan Elementary PTA visit their website.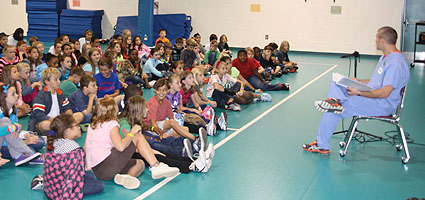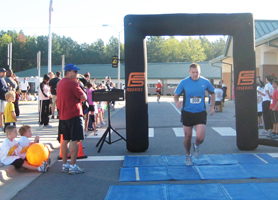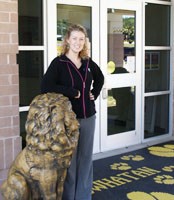 Riverwood Elementary School in Clayton NC
Go Rams!  Clayton is known for high quality public schools.  Check back in the future to learn more about our involvement with the Riverwood PTA.

Cooper Elementary School in Clayton NC
Go Rockets! Dr. McNutt enjoys teaching over 650 Cooper Elementary School students about oral health at their annual Community Day and being a sponsor for their annual 5k. To see some great pictures check out the short movie on our blog post by clicking here.

Riverwood Middle School in Clayton NC
Go Ravens! Students at who are earning Raven bucks to redeem for fun stuff at the student store will find some fun items donated by our team at Clayton Orthodontics.  To learn more, visit the Riverwood Elementary PTA website.
Clayton Middle School
Go Eagles!  The Clayton Orthodontics team has enjoyed supporting the Clayton Middle School PTA on an annual basis since 2011.  Our favorite event has been the Turkey Trot 5k and Community Expo.    The kids always have a blast and we think you should to.  To learn more about how you can join in the fun, visit the Clayton Middle School website.
Clayton High School Band Booster
Dr. McNutt loves music and the arts.  The Clayton Orthodontics team has been supporting the band since 2009 and is proud to help these hard working students continue to make beautiful music.  To learn how you can support the Clayton High School Band, visit their website or like the Clayton HS Band on Facebook.

MS Society
Dr. McNutt and his wife Lisa pledge annually to help fight MS and find a cure.  Every year they sponsor a family who is near and dear to their hearts.  To join the fight against MS visit the Multiple Sclerosis website.
Johnston County Home Educators
We are glad to sponsor the JCHE Student Yearbook.  The JCHE works hard to provide information, inspiration and support for home schooling families in Johnston County, NC.  To learn more visit Johnston County Home Educators website. "Education is not the filling of a bucket, But the lighting of a flame."
Clayton Harvest and Music Festival
This event held each year in the heart of down town Clayton is one of our favorites.  We have been supporting the town and participating with the Chamber of Commerce since 2009.  We highly recommend that you attend each Fall and we promise you will have a great time!  To learn more visit the Clayton Chamber of Commerce website.
Soccer Soccer Soccer!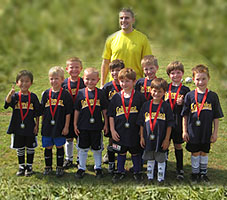 Dr. McNutt is a huge soccer fan and has played and coached since he was 8 years old.  His dream is to some day go to the World Cup Tournament!  Dr. McNutt coaches in the largest Triangle church soccer league, hosted by Colonial in Cary NC, which has players from about 50 local churches each season.  To learn more about this league, the soccer league website.  Another great family outing is to watch the the Triangle's professional soccer team, the Carolina Railhawks.  Dr. McNutt has been a supporter and a big fan of the players and team since the inaugural season.  To learn more about the Railhawks team, games and youth soccer camps visit the Railhawks website.